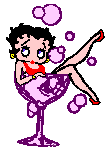 My Betty Boop Collection!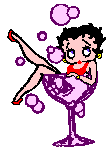 ---
I have a large collection of BOOPABELIA!

My collection includes :
The Complete set of Black&White kitchenware by Benjamin & Medwin, ceramic candy dishes, mugs, clocks, posters, prints, picture frames, salt&pepper shakers, towels, throw rug, pillows, shower curtains, shower curtain hooks, table cloth, party supplies, plates, t-shirts, night shirts, boxer shorts, underwear :-) , sweaters, blouse, shorts, jackets, purses, earrings, pendants, pins, watches, tote-bags, backpacks, apron, notebooks, pens, checks, computer mouse pad, computer screen saver, phones, magnets, paper weight, coin sorter, air fresheners, bank, bumper stickers, buttons, calendars, candle, Christmas ornaments, compact disc, decals, dolls, gift bags, wrapping paper, key chains, party lights, lighted wall sculpture, light switch covers, metal signs, postcards, greeting cards, tin truck, trading cards, lunch bag, bookmarks, videos, toilet seat, soap/lotion dispenser, confetti, squeezie, metal lunch boxes, slippers, a trinket box, bubble bath, rubber duck, lamp, make-up bag, bookcovers, tree topper, poseable dolls, wine bottle topper, musical jewelry box, musical sculptures, miniature teaset, fake tattoos, bandanas, and even 3 real TATTOOS of Betty!
Check out my Where to find Betty on the Web page to find stores that sell Boopabelia!

Check back for pictures of my FAVORTIES
---
Betty Boop, Bimbo, Pudgy, and Koko are owned by, copyrighted by, and licensed trade marks of KING FEATURES SYNDICATE Inc. and FLEISCHER STUDIOS, Inc. All images of Betty Boop, Bimbo, Pudgy, and Koko are copyrighted by King Features Syndicate. This page meant for personal enjoyment only.

Click on Betty to go back to her main page.
This page is "owned" by webmistress: Jennifer Lynne Gilbert.
---
This page hosted by
Get your own Free Home Page